Our Designer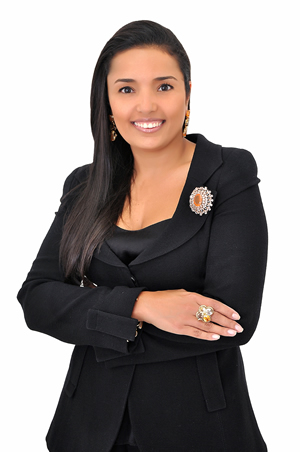 As the granddaughter of a miner, and daughter of a gem dealer, colored gemstones run in Karina Sena's blood. She grew up crawling the floors of Lasbonfim.
Completely in love with Brazilian gemstones, and knowing she wanted to make the family business her life's work, she continued her education, studying Jewelry Design, Business and Geology, specializing in Gemology and AJP (Accredited Jewelry Professional) at GIA (Gemological Institute of America).
In order to experience the glamour and trends of the European fashion industry first-hand, as well as be exposed to a diversity of styles, Karina has spent a great deal of time in London as her home base while she studied and traveled throughout Europe.
In 2003, she made her dream come true when she incorporated her personal design line - Karyna Sena – dreams in the form of jewelry.
Karina's unique background and international awareness have already made her wholesale gemstone and retail "tailor made" jewelry business a success.
Add to that the high quality craftsmanship and her extraordinary creativity and imagination, and you have real art, not just jewelry.
After all, as Karina says, "the special nature of the jewelry brings with it a power of beauty, a power that rubs off on the women wearing it, making her shine as well".